From start… to completion!
Christina Benoit: I will be working at Healthcare for the Homeless as a Communications Assistant in Baltimore for the 2020-21 year. I'll support the communications team in their work to develop and implement consistent, integrated, high-quality communications for clients, staff, the larger Health Care for the Homeless community and the broad public. I've had prior work ethic regarding Women's empowerment, creating lunches for the homeless, assisted symposiums, conducting events for entrepreneurs, college students and the public.
Maya DeGasperi: I grew up in Seattle, Washington and was lucky enough to be able to experience everything the Pacific Northwest outdoors has to offer. However, in high school I became more aware of equity and social justice issues surrounding access to environmental spaces and the fact that many of my neighbors were experiencing more environmental harms, like gentrification and pollution, than benefits. I graduated from Macalester College in Saint Paul, Minnesota in the spring with a Bachelor of Arts in Environmental Studies and an emphasis in Environmental Justice. During my time at Macalester I enjoyed learning about environmental justice issues through my coursework as well as off-campus through internships at local non-profits. Most recently I worked as a GIS Intern at Minnesota Brownfields, where I had the opportunity to map the relationship between areas of concern for environmental justice and brownfield density. Highlights of my environmental justice and policy work so far have been engaging with people around environmental issues, and I am excited to bring these interpersonal skills to my LVC placement. Immigration justice is most definitely an environmental justice issue and I am looking forward to joining the wonderful people at CAIR Coalition in providing legal assistance to detained immigrants.
Leanne Galati grew up on a wheat farm in Idaho, later earning a BBA from Pacific Lutheran University and an MA from the Johns Hopkins School for Advanced International Studies. After working and studying several years in Europe, she settled in Seattle with her husband, Antonio, an Argentinian native and raised two children, Matias and Elena. As a recent empty-nester, she is taking a year long sabbatical from her job as a Principal Economist with the City of Seattle to discern how to more fully use her professional and inter-cultural experience to the benefit of immigrant populations.
Lauren Talley grew up in Western North Carolina and recently graduated from UNC-Chapel Hill with a degree in public policy and political science. While at UNC, Lauren worked in various levels of government and participated in research involving food insecurity and poverty. She is passionate about criminal justice reform and making sure everyone has a library card. She is serving this year in Baltimore as a public policy and engagement assistant at Healthcare for the Homeless.
Charmaine Allen is an aspiring mentor who works with many people to achieve inspirational goals. Charmaine believes that whatever you want to achievein life you can with hard work and dedication. One of her greatest accomplishments was becoming a flight attendant. It was a goal that she had since a child and was elated when it was reached. She is trained in listening to others and having patience. Charmaine went to Southwest Tennessee Community College where she studied Criminal Justice.
My name is Anna Fox and I graduated from Wittenberg University with a Bachelor of Arts in Music in 2019. Following graduation, I served with the ELCA's Young Adults in Global Missions in Wolverhampton, England. In Wolverhampton, I worked with a United Reformed Church and served primarily as their youth coordinator. In addition, I worked with ministries that worked specifically with the Roma people and refugee populations. My time in the UK was truly transformative and drove me to seek out social justice work within the US. Upon my sudden return to the US, due to Covid-19, I began working as a Direct Support Professional, serving adults with developmental disabilities. It is through this work that I have found my greatest sense of call. I hope to dedicate my life to creating a world in which all people are recognized for their unique gifts, regardless of ability level. A few other fun facts about me are that I speak French and studied in Toulouse, France, I am an avid Beatles fan, and I love to experiment with baking new things. I am honored to serve with LVC and am very much looking forward to this coming year!
Ryan James will serve as Communications and Organizing Fellow at Washington Interfaith Network. He looks forward to working in support of WIN's mission to promote equitable housing and employment in the District; and to learning the skills needed to be an effective advocate in local politics. Ryan grew up in Salt Lake City, Utah, before coming to Washington to earn his Bachelor's in International Politics from Georgetown. In his spare time he likes to read, watch soccer, and spend time outdoors.
Owen Lewer is originally from Waseca, MN, and spends most of his time outdoors, playing sports, or reading any book he could get his hands on. While he has worked as a farmhand, camp counselor, and backpacking guide, he recently graduated from Carthage College with a B.A. in Biology and a minor in Spanish and is applying to medical school. He is passionate about immigrant rights and strongly believes all people should have access to quality, compassionate healthcare. He is excited to grow in his position as a Community Care Assistant at Joseph's House in Washington, DC. and develop a foundation to be a better physician later in life.
My name is Abby Schneekloth and I am a recent graduate from St. Olaf College in Northfield, MN. I majored in Philosophy and French at St. Olaf, and am interested in a legal career moving forward. I have extensive experience with written and verbal communication as a peer writing and public speaking tutor at St. Olaf, and I look forward to carrying the leadership and communication skills from these positions into my social justice work at LVC. Additionally, through previous work at a pro bono family law clinic and the Environmental Enforcement Section of the Department of Justice, I have gained critical experience with social justice issues such as women's health and environmental sustainability. I hope to continue to use the tools from these previous experiences while serving for LVC. I am eager to serve as a Communications Associate at Government Accountability Project in Washington, D.C. this upcoming year!
Samra Stoner: My passion and commitment to social justice was initially sparked when I was a junior in high school. I participated in a Chrsitian leadership program (Grand Rapids Initiative for Leaders United) where I learned about mass incarceration, and I was so convicted and angered on the inside that I made it the topic of my high school senior project. I was able to participate in a silent demonstration to raise awareness about mass incarceration in my own community. For the last six years, I have intentianlly done a lot of research on systemic racism and inequality in America. My passion for social justice led me to pursue a social work degree at Goshen College.
Sarah Ward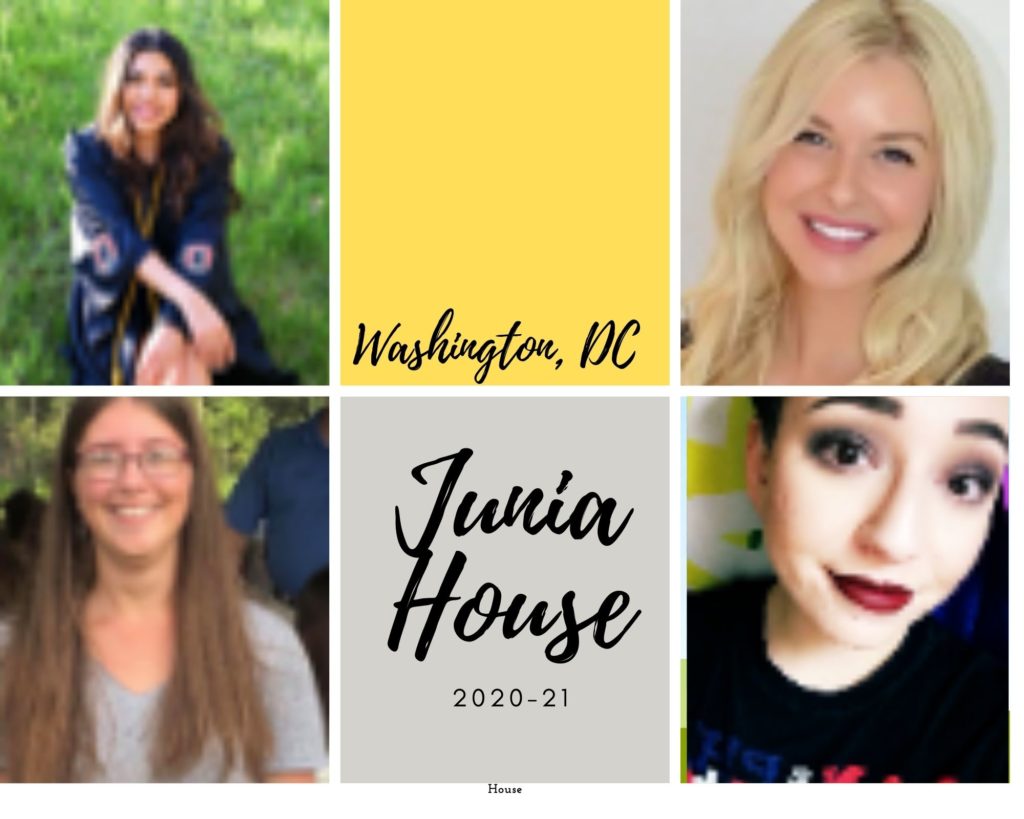 Jocelyn Camarillo-Rosas
Sarah Hubbard graduated from the University of Wisconsin-Madison, WI, in 2009. She majored in psychology with a certificate in criminal justice. Sarah was a member of Psi Chi, the International Honors Society in Psychology, and UW-Madison's Psychology Club. She presented original research at the Midwestern Psychological Association's annual convention in Chicago and at the University of Wisconsin-Madison's Undergraduate Symposium. Sarah is an avid researcher and served as a faculty assistant for several experimental laboratory studies, including the Wisconsin Study of Families and Work, now the Adolescent Development Project. Sarah is passionate about social justice and served as an advocate for P.A.V.E. (a campus organization promoting awareness and victim empowerment) and the National Alliance on Mental Illness.
Abigail Roy: I am a recent graduate from St. Olaf College, with a degree in psychology and a concentration in neuroscience. I have experience as a volunteer teacher where I taught adult refugees English, and I'm excited to continue this work through LVC. After my year with LVC I hope to go to law school or graduate school and continue exploring a career in public service.
Jay Salerno is a graduate from Caldwell University in New Jersey with a bachelor's degree in Psychology and Sociology. They have a passion for service and social justice and are so excited to be serving as Program Assistant at Luther Place Memorial Church and Steinbruck Center in Washington D.C. After their service year, they hope to receive a Masters in Social Work and work at a nonprofit organization.
Abram Espe: I recently graduated from Luther College with a degree in Environmental Studies. I've had a passion for the environment and stories since I was small. Have been active in church life throughout childhood and have worked at a camp for the last 5 years.
John Lamont: I am a recent graduate of Williams College, in western Massachusetts, where I majored in History and pitched on the varsity baseball team. I am passionate about making the legal system work for its most vulnerable participants, especially those who our current legal system is designed to oppress. In my spare time, I enjoy reading science fiction and playing pick-up basketball.
Gina Mueterthies: I'm originally from Cedar Falls, Iowa, but I've spent the last two years at St. Olaf College in Northfield, Minnesota where I study Sociology/Anthropology and Women's and Gender Studies. I'm taking a gap year in pursuit of learning and growing in a new environment! I've worked on the issues of food security and unemployment in the past, so I'm excited to do something new and spend a year working with kids in a school setting. I am passionate about playing my part in making the US a more equitable place and I hope to work toward discerning exactly what that role might be throughout the coming year. I'm really looking forward to learning from the other LVC participants and my placement organization; I hope to come away from the experience with a better understanding of the various issues that affect residents of the Twin Cities and the work that is being done to combat those issues. In my spare time, I like to read, do yoga, and be outside. I also play the trumpet and aspire to pet every dog I meet!
Elizabeth Olson: I am a recent graduate of the University of Texas at Austin. During my time at UT I focused on government and nonprofit studies. I was interested in learning about social justice issues within our country and the different ways of approaching solutions to those issues. In addition to the school work I did at UT, I also worked at the Center for Community Engagement as the Development and Outreach Coordinator. It was my experience there that I truly came to appreciate the importance of community and civic engagement. I am so excited to apply what I've learned and continue my journey learning about the various social justice issues and how nonprofit agencies can address them.
Madeline Troyer grew up in the small town of Berlin Ohio. She attended Messiah college where she recived a degree in Sustainability with a double concentration in agriculture and community development. After graduating a semester early she went on to deepen her education by hiking the Appalachian Trail. Madeline enjoys reading, soending time with others and out in nature with creation.
Johan Cavert is from Minneapolis, Minnesota and a recent graduate of Oberlin College.
Lucy Jones is a 2020 graduate of Elon University from Winston-Salem, North Carolina. Her undergraduate experience included a major in philosophy, minors in religious studies, political science, and poverty and social justice, as well as studying abroad in Cape Town, South Africa, and London, England. Lucy also completed an undergraduate thesis aimed at encouraging Christians who take seriously the value of social justice to adopt a reproductive justice framework into their activism.
Carter Mickelson: I was born and raised in Minnesota, where I lived with parents, sisters, and dog. I graduated from St. Olaf College in 2020, where I majored in Political Science and Spanish with a concentration in International Relations. During my time at St. Olaf, I studied abroad in Spain and had the opportunity to have engaging internship experiences with various nonprofits. In my free time, I enjoy exercising, reading, cooking, and spending time with friends and family.
Silas Ryan is a first-year volunteer at LVC. He's so excited to get started!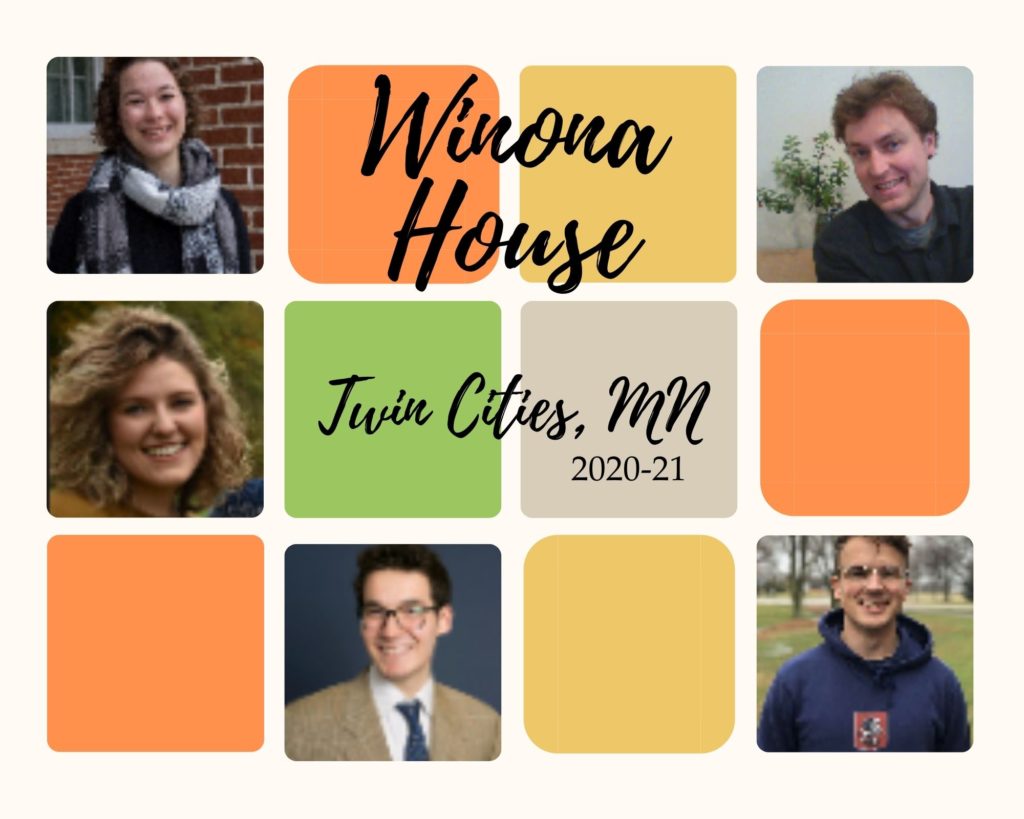 Sanna Berdahl is a recent graduate of Luther College in Decorah, IA where she studied social work and Spanish, as well as diving into philosophy, movement studies, and choir. In her time at Luther, Sanna studied off-campus in Washington D.C., Denver, CO, and Buenos Aires, Argentina, and she hopes to do more justice work abroad in the future! A native of Duluth, MN, Sanna has worked as a camp counselor and environmental educator, as well as at positions in refugee resettlement and children's advocacy organizations. Sanna is excited to continue living out her commitment to social justice through serving the Minneapolis community!
Hannah Gross is a recent graduate of Luther College, where she studied Nordic Studies and Social Work. She grew up in Sioux City, Iowa, but has lived in Oslo, Norway and Denver, Colorado during her time at Luther. She is interested in the Nordic welfare model, social policy, sustainability, and immigration. She has a deep love for being outside, practicing yoga, spending time with loved ones, and enjoying a warm cup of coffee. She is excited to spend the next year at LVC and to live in a new city! Fun fact: Hannah is a 200hr certified vinyasa yoga teacher.
Stephen Karlya hails from Flushing Queens, a neighborhood in one of the outer-boroughs of NYC. He went to school nearby at Hunter College, located in the Upper East Side of Manhattan, where he graduated with degrees in Economics and Psychology. He has been found working in past years at dining halls and apple orchards, but most recently as an administrator for a special education pre-school. It is here where he found a love for servicing communities. Looking forward, he has interests in public health as well as law. In the meantime, he decided to do a service year with LVC, to explore these interests, as well as himself.
Samuel Mixon is a recent graduate of Clemson University in South Carolina. His volunteer experience includes regular housing, nutrition, and political campaign work, though he is perhaps most passionate about healthcare and technological issues. In his spare time, Sam enjoys computer programming and playing the piano, especially in ensemble.
Hello! My name is Alexander Phelps. I was born in Russia but grew up in a small town called Washington, IL right next to the city of Peoria. I recently graduated from the University of Illinois-Springfield in Global Studies and Political Science. I am looking forward to dedicating a year to work, learn, and develop my understanding of the U.S immigration system by volunteering with the Advocates for Human Rights in Minneapolis! I hope to use my language skills to help represent individuals who may not be able to advocate for themselves. As for hobbies, I enjoy catching up with friends over coffee, camping, and napping when I have the time! After volunteering with LVC I hope to enroll in law school! My interest in social justice issues originally began when I served as a Spanish speaking interpreter for asylum seekers in a detention center in central Texas after my junior year of college. Since then the causes I have become interested in understanding include but are not limited to death penalty reform and racial equity issues.
My name is Khaia Baranowski and I grew up in the south part of New Jersey. I am a recent graduate from Villanova University where I obtained a degree in English with a minor in business while playing division one lacrosse. Throughout my childhood and into early adulthood sports were a major part of my life. I was always the type of person to have fun on the field. My summers were spent outside and are filled with memories of swimming in pools, chasing down Mr. Softee trucks, catching fireflies, picking buttercups, chewing on honeysuckle, eating wild blackberries off the fence in the park, and spending weeks on the coast of Maine. If I wasn't outside playing sports I was inside reading.
Gillian Heckert-Mitchell is passionate and dedicated to fighting social injustices in her community. She grew up in King of Prussia, PA and graduated in May from Washington College in Chestertown, MD with a BA in Anthropology and minor in Business Management where she conducted a thesis on food insecurity in rural Kent County, Maryland. She loves serving others by being on a worksite or serving meals at the local food pantry and has worked through Appalachia Service Project, Habitat for Humanity, Food Recovery Network and various local food cupboards to do just that. She is working for the Ministry of Caring in Wilmington, DE as a grant writer and is excited to gain experience on this side of the nonprofit world. In her free time, you can find Gillian enjoying time outside, reading, or spending time with friends. She is looking forward to living in an intentional community and starting this new journey with LVC to fight for justice in our communities.
Zoe Juanitas is a Northern California native and recent graduate from Northwestern University, where she studied journalism and creative nonfiction writing. Her work has been featured in numerous publications, including Sacramento Magazine and New York Magazine's the Cut. When she's not advocating for topics close to her heart such as mental health, sexual assault prevention, and the LGBTQ+ community, you can find her reading, vintage shopping, or discovering the best coffee shop in town.
Hello, my name is Elizabeth Kulus and I am so excited to serve with the Lutheran Volunteer Corps this year! I am from West St. Paul, Minnesota, but I recently graduated from Pacific Lutheran University in Tacoma, Washington where I majored in Global Studies with a concentration in Development and Social Justice. I also minored in Theatre, Sociology, and Peace Corps Prep. My most recent experience working for social change has been through working with a church in Parkland, Washington in their food ministries. I was able to complete an internship at Trinity Lutheran Church where I helped establish a pilot home food delivery program for the elderly in my community. I was also able to get a research grant to study abroad for the second time in Trinidad and Tobago where I learned about cocoa production and gathered interviews to complete my Global Studies capstone. I am thrilled to see how serving as a Lutheran Volunteer Corps member will change me!
Hello! My name is Sijia Tong. A recent college graduated student at the University Of Montana with a major in communication studies. I am originally from Hong Kong, China. I started my first year of study abroad in the United States in 2013, as being an exchange student in American High School in Utah state. This gave me a great opportunity to learn and explore American culture, which was a new culture for me. I am grateful that I received a bachelor's degree from the University of Montana and finish higher education in the United States. I am now excited to start my new journal as a volunteer of the Lutheran Volunteer Corps. I am looking forward to starting my one year of service with my placement, Project hope. As my first "job" after college; At the same time, I am also looking forward to living in a community to learn how to live simply and sustainably, as living with other volunteers. I believed that it will be a unforgettable experience for me.
My name is Marissa Evonne Clark, and I am originally from Rochester, NY, but I have lived in the NJ area for over 8+ years. I have volunteered with many organizations that center youth advocacy, community development, nonprofit engagement, human rights, and homelessness. Recently, I have been volunteering in my neighborhood providing assistance for food insecurity! I am extremely excited to begin this new chapter as an LVC volunteer!
Ryanna Quazi is a second year Master in Public Health Student at the George Washington University in Washington DC. She is passionate about the intersection of public health program planning and public health policy/advocacy. She previously worked as a Government Affairs Intern at the National Association of County and City Health Officials. She will serve as a US Policy and Advocacy Fellow at Habitat for Humanity International in Washington DC.
Matt Ponder joins LVC after serving as a hospital chaplain and before that, as a L'Arche assistant. He earned a Master of Divinity with a certificate in Theology, Medicine, and Culture from Duke (2016) and a Bachelor of Arts in Philosophy and Religion from Florida State (2013). Matt is passionate about advocacy for survivors of trauma and is excited to be joining the Network for Victim Recovery of DC. In the fall of 2021, he will begin the Master of Sacred Theology program at Yale, where he will continue studying theology and trauma. In his spare time, Matt enjoys yoga, caring for his many houseplants, and cooking new recipes. He lives in the District with his spouse, Savannah, who is an Episcopal priest, and their retired racing greyhound, Esther.