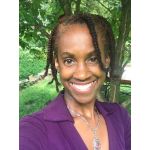 WASHINGTON, DC, September 24, 2018 — After a nationwide search, Lutheran Volunteer Corps (LVC) announces the appointment of its new president, Deirdre Bagley. Bagley joined LVC for its annual National Orientation and board meeting in Chicago, in August, to transition into the role, which begins officially on October 1.
Bagley has spent her career serving nonprofits as CEO, COO, and deputy executive director, for organizations with membership from 60 to 100,000; managing budgets up to $30 million; and leading programs, operations, special events, student and regional programs, training, fundraising, human resources, executive and event speech writing and video scripting, and organizational development.
Jeffrey Yamada, Chair of the Board of Directors, said, "As we approach our 40th anniversary in 2019, we're excited about this new chapter in the life of the organization. Under Deirdre's leadership, plans are already underway for launching new efforts around the volunteer experience, organizational structures and efficiencies, and Journey to Inclusive Community. Her experience with national nonprofits, youth development programming, and strategic planning will benefit LVC during this time of change and growth."
Bagley has provided leadership in various environments including high school and higher education, computer science, legislative advocacy, and workforce development. She has consulted with public and private organizations in leadership development and strategic planning; and she helped found a youth leadership program in Prince George's County, MD. Bagley has volunteered with youth and college student mentoring, youth and adult literacy tutoring, and Court Appointed Special Advocates. She has a Master's degree in Human Resources Development (adult education) from Bowie State University; a Bachelor's Degree in Human Development and Family Studies from Cornell University; certificates in organizational change and community mediation. She is also a member of Leadership Greater Washington.
Bagley shared her perspective: "It's an honor to be invited to lead young people as they move from college to work, with the LVC year-of-service in between. We have the opportunity to shape emerging leaders' values through training, intentional community, social justice missions, and volunteer experiences with diverse religious, racial, gender identities, and cultural backgrounds. The service year presents challenges and opportunities that prepare volunteers for the world — and tests LVC's ability to help them meet these challenges. I'm all in!"